The Chair of our Technical Advisory Group, Professor Des Thompson, reflects on the outstanding endeavours of remarkable people – raptor conservation legends.
A year ago the Coordinating Unit of the Raptors MOU published the Vulture MsAP Strategic Implementation Plan. Eleven out of the 16 vulture species in Africa, Asia and Europe are at risk of extinction. During the 1990s, vulture populations in South Asia declined by 99% over a single decade due to poisoning by diclofenac, a Non-steroidal Anti-Inflammatory Drug (NSAID) used to treat cattle and other livestock. From 2006, veterinary use of diclofenac was banned by governments across India, Nepal and Pakistan and more recently in Bangladesh, Iran, Cambodia and Oman, but illicit use continues. Moreover, diclofenac is still in use in parts of Europe and Africa although in all these regions alternative non-toxic drugs, such as meloxicam, are available.
 
We have been here before with catastrophic threats to birds of prey. In the 1940s and 1950s organochlorines formed the first group of synthetic pesticides used in agriculture throughout much of the world. In the ensuing decades, populations of birds of prey at the top of the food chain crashed because of the combined effects of DDT lowering their annual reproductive rate (especially causing eggshell thinning) and aldrin/dieldrin raising the annual death rate. Over three decades exceptional research, much of it collaborative, revealed the catastrophic risks to birds of prey from organochlorine pesticides. Ensuing active conservation interventions, and tenacious advocacy eventually leading to legislation, have enabled remnant populations to recover.
Many brilliant people worked to reveal this plight. I highlight some of them here - legends of raptor conservation.
Taking them in order from the early years, Dr Rachel Carson (1907-1964) is forever associated with the cause célèbre Silent Spring (1962). Describing the awful effects of organochlorine pesticides on wildlife, this book is widely credited with stimulating the world's environmental movement. Talents as an environmental scientist and lyrical writer propelled her as a global force for nature. Beginning work as an aquatic biologist she became a full-time nature writer in the early 1950s - winning the US National Book Award for her first bestseller The Sea Around Us (1951). 
In the mid-1950s her attention turned to widespread pesticide spraying and the impacts of DDT and other agro-chemicals on food chains and wildlife. Rallying exceptional support and evidence from a great range of environmental scientists and public figures, Carson amassed a wealth of material in the late 1950s and early 1960s for inclusion in Silent Spring. The plight of bald eagles and peregrine falcons featured strongly. Fiercely criticised by the pesticides and agricultural sectors when the book was published in 1962, it was only in spring the following year that the book garnered wide public support, with opposition by then diminished. Tragically, she suffered great illness in 1963, as cancer spread, and passed away a year later in April in her home in Silver Spring, Maryland. 
Posthumously awarded the Presidential Medal of Freedom in 1980, Carson was widely honoured with research vessels, laboratories, conservation areas and prizes in her name. In 1972 the agricultural use of DDT was banned in the US, and by 1991 total bans were in place in 26 countries. As Carson stated in Silent Spring, 'A Who's Who of pesticides is therefore of concern to us all. If we are going to live so intimately with these chemicals eating and drinking them, taking them into the very marrow of our bones - we had better know something about their nature and their power.'
Born in the same year as Carson, Professor Joseph Hickey (1907-1993) was key to the banning of organochlorine pesticides through his work on the peregrine. Joe took his Master's degree under the revered writer and environmentalist Aldo Leopold at the University of Wisconsin-Madison. Before then, as a youngster he developed a keen interest in birds, founding with nine others the Bronx Country Bird Club, and first studied history at New York University. Befriending Ernst Mayr, one of the 20th century's leading evolutionary biologists and taxonomists, Joe became fascinated by biology, and took evening classes leading to a degree. That took him to Wisconsin in 1941, where he wrote up his Master's thesis as A Guide to Birdwatching, a landmark in what is now labelled 'citizen science' publishing. He was heavily influenced by two great ornithologists and writers, Roger Tory Peterson and Max Nicholson; his wife Peggy encouraged him to write the book, which he began on their honeymoon. 
Moving to the University of Michigan, Joe took a PhD on the applications of bird ringing data to understanding population dynamics. Recruited by Aldo Leopold as the second professor, Joe returned to the University of Wisconsin, and shortly afterwards succeeded Leopold as head (Leopold died unexpectedly in 1948, having just completed A Sand County Almanac, which Joe helped prepare for publication). 
Steadily developing his research interest in peregrines, Joe developed an atlas of known historical nest sites, leading him over the next two decades to research regional, national and global crashes in the peregrine populations. Convening the landmark '1965 Madison Peregrine Conference', Joe brought together the world's experts on peregrines to examine the extent and causes of the population crash. It brought the peregrine to the world stage of global environmental concern, with the peregrine becoming the symbol of how pesticides such as DDT were threatening wildlife, and especially top predators, worldwide. The proceedings of the conference, Peregrine Falcon Populations: Their Biology and Decline (1969), edited and honed by Joe, is a classic volume in environmental science. The journal Science opened its review of the book: 'This book might well be a classic – the handwriting on the wall for all mankind.' As Professor Stan Temple has pointed out, the conference was significant in: revealing the causes of the worldwide decline; launching a modern raptor conservation movement; galvanising efforts to recover peregrines and other threatened raptors; and providing Joe and colleagues with a strong platform for efforts to eventually ban the use of DDT. 
In A Sound County Almanac, Aldo Leopold wrote: "A conservationist is one who is humbly aware that with each stroke [of the axe] he is writing his signature on the face of the land." His student did him proud.
Shortly after the Madison Conference the first meeting of the Raptor Research Foundation took place with 13 members determining how to prevent the decline of peregrine populations. Formally established in 1966, the Foundation has grown to become the leading research body concerned with raptor conservation and ecology. Its Journal of Raptor Research is published quarterly. Annual meetings were held in North America, until in 2009, when the annual meeting moved to Pitlochry, Scotland and hosted 300 delegates. This year the conference is planned for Boise, Idaho (8-14th October). In addition, successful regional conferences have been held in Mexico, Israel, Italy and Spain. The Foundation was heavily involved in forming the collaborative pan-European Raptor Monitoring Network (EURAPMON (2010-2015) which has given rise to further raptor monitoring programmes, notably European Raptor Biomonitoring Facility and LIFE APEX.
Professor Tom Cade passed away just two years ago (1928-2019). A lifelong falconer, and former Director of the Cornell Lab of Ornithology, Tom was a co-founder of The Peregrine Fund, launched in 1970 - arguably one of the world's most important conservation organisations. In 1960 he published a remarkable review of the ecology and behaviour of the peregrine and gyrfalcon in Alaska (University of California Publications in Zoology 63:151–290) – remarkable because of the sheer effort devoted to making observations in a remote and wild landscape. This stimulated long-term monitoring of these species across the Arctic.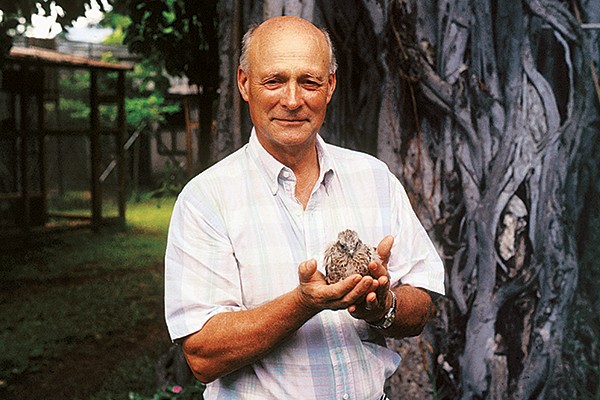 Tom's great contribution was devising captive breeding and ground-breaking release techniques to restore peregrines to vast areas where populations had crashed due to the effects of DDT contamination. 1980 was a milestone when three pairs of captive-bred peregrines nested and produced six young in the wild—the first natural reproduction of the species east of the Mississippi in more than 20 years. Steadily, the population increased by some 5-10% each year. Recovery was so unimaginably great that in August 1999, at the World Center for Birds of Prey in Boise, Idaho, the Secretary of the Interior Bruce Babbitt, standing alongside Tom, officially removed the peregrine from the Endangered Species List.
The Audubon magazine in 1998 published a list of the 100 'Champions of Conservation', and included Tom – alongside Theodore Roosevelt, Rachel Carson and Aldo Leopold. Resolutely determined, energetic and motivational, Tom's influence remains strong through the outstanding work of the Peregrine Fund and the tireless efforts of many people he influenced. Californian condors, Harpy eagles, Mauritius kestrels in addition to peregrines have all befitted enormously from his efforts.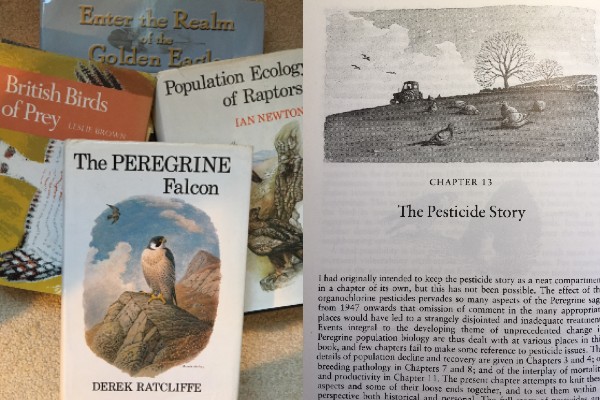 Unlike the foregoing three, I worked closely with Dr Derek Ratcliffe (1929-2005), and with colleagues published Nature's Conscience: the life and legacy of Derek Ratcliffe in 2015. In his classic monograph The Peregrine Falcon (1980) Derek describes what he called 'The Pesticide Story' (Chapter 13). Its gripping detail takes the reader through the surveys of peregrines in Great Britain, in 1961-1962, organised by Derek, which revealed the awful plight of peregrines. These were arguably the first systematic national surveys of a bird of prey and involved more than 150 fieldworkers.
For some years before this Derek had noted broken eggs in nests (publishing a short note on this in British Birds in 1958). In a classic paper in Nature (1967) he described historical eggshell thinning in peregrines coinciding with the prevalence of organochlorine pesticides (he provided more detail on this for several species in a paper in the Journal of Applied Ecology in 1970). Working closely with Joe Hickey and others, the research evidence grew demonstrating the insidious impacts of these pesticides in the food chain.
Derek was arguably the most outstanding field biologist and conservationist of the 20th century. In addition to being a highly effective raptor biologist and conservationist, he was an exceptional botanist, and the prime architect of the modern-day nature conservation framework in Great Britain, editing two volumes of A Nature Conservation Review (1977).  Prodigiously productive, his other books included Bird Life of Mountain and Upland (1990), The Raven (1997), In Search of Nature (2000), Lapland. A Natural History (2005), and the New Naturalist volumes Lakeland (2002) and Galloway and the Borders (2007). 
Painfully shy, modest but resolutely determined to stand up for nature in peril, Derek was the antithesis of what we think of today as a prominent environmentalists, Yet through his deep conviction and integrity, and revered by those who worked closely with him, his legendary standing grows.
Many other key people played special roles in the pesticides campaign. 
The American conservationists, Frank Craighead (1916-2001) and twin brother John (1916-2016), used their expertise as falconers and photographers to raise the profile of raptors and threats to them; they later went on to study grizzly bears in Yellowstone National Park.
Dr Leslie Brown (1917-1980), an agriculturalist and naturalist spending much of his working life in Africa, published British Birds of Prey (1976), having earlier published Eagles, Hawks and Falcons of the World (1968) with Dean Amadon (1912-2003). In the former he provided a rather blunt overview of pesticide impacts, commenting on the researchers' work: 'It is unlikely that the relatively quiet and unspectacular efforts of these scientists to agree among themselves what is needed, and put into effect, will attract as much public attention as the louder outcries of the lunatic environmentalist fringe; but they are more likely to do actual good.' 
The conservationist Professor Norman Moore (1923-2015) developed the 'precautionary principle' for pesticide use and published an award winning autobiography The Bird of Time in 1987. He was a world expert on dragonflies and damselflies, with several species named after him.
Dr Ian Prestt (1929-1995), former Director General and President of the RSPB, led key research and government policy work on pollutants impacting birds.
The renowned toxicologist Professor David Peakall (1931-2001) unravelled the connection between the timing of DDE contamination in peregrine eggs and the onset of eggshell thinning. With Helmut Fritz van Emden he edited Beyond Silent Spring: Integrated Pest Management and Chemical Safety (1996).
Professor Ian Newton, the contemporary world authority on raptor ecology and conservation, pioneered much of the underlying science on organochlorine impacts on raptors, and remains active in research. He published Uplands and Birds in 2020 (his fifth volume in the prestigious Collins New Naturalist series), and is currently working on a book on bird migration, following up on The Migration Ecology of Birds (2008) and Bird Migration (2010). His books Population Ecology of Raptors (1979) and The Sparrowhawk (1986) are classics. Ian is a living raptor conservation legend! 
Rachel Carson, Joe Hickey, Tom Cade, Derek Ratcliffe and Ian Newton are among the conservation legends who secured a brighter future for raptors – and for us.