Bonn, 14 May 2013 - An estimated three hundred keen opera lovers and music enthusiasts attended the first ever CMS-sponsored benefit concert given by the Bologna Opera Choir.  Held in the recently renovated baroque Namen-Jesu Church in Bonn, the event was organized as part of the celebrations of World Migratory Bird Day. 
CMS Executive Secretary, Bradnee Chambers opened the concert and expressed his thanks to the Namen-Jesu Church for making available the wonderful setting, to the Cultural Office of the City of Bonn, the Federal Ministry of the Environment and the Lions Club for their generous support as well as to the choir for providing the prospect of a feast for the ears. The German Minister for the Environment had provided an official statement to mark World Migratory Bird Day.
Singing a selection of works of Giuseppe Verdi, the Italian composer the bicentenary of whose birth is being celebrated this year, was the San Rocco operatic choir from Bologna.  The choir presented excerpts from Verdi's most famous operas such as Nabucco, Aida and La Traviata.  Musical Director, Marialuce Monari conducted, Kaori Suzuki was the pianist and Francesca Frascari acted as compère.  One of the members of the choir is Fernando Spina, the current Chair of the CMS Scientific Council, whose idea it was to bring the choir to Bonn.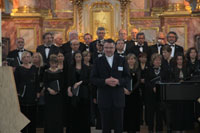 The extraordinary commitment of the musicians who provided the audience with musical enjoyment was most enthusiastically honoured by the audience who gave standing ovations.  The choir created a pleasant surprise for the audience when requesting the support of Bonn's Lord Mayor for its first encore The prisoners' Choir of Nabucco.
Dr. Chambers presented gifts on behalf of the Secretariat to the artistes, who gave an excellent performance. In return, the choir handed over a briefcase with original illustrations of migratory birds to the Lord Mayor and offered souvenirs from Bologna to the CMS Secretariat.



The concert was preceded by a reception hosted by the Lord Mayor in the Old Town Hall, during which he warmly welcomed the choir and revealed his passion for music as a former choir member himself. Friends and partners of the Bonn Convention including Dr Cristina Di Giorgio of the Italian Cultural Institute in Cologne attended the event.
The proceeds will go to  the conservation project in Africa which aims to protect the endangered Grey Crowned Crane. 
Statement by the German Minister for the Environment